The mission of the Long Island Insurance Community (LIIC) continues to be bringing the insurance community together to change the lives of Long Islanders in need. For 25 years, LIIC has supported United Way of Long Island's mission to fight for the health, education and financial stability of every person in every community. LIIC is continuing to support United Way's efforts during the COVID-19 crisis.
LONG TERM RECOVERY
Over the past 10 weeks, United Way has responded to the needs of Long Islanders experiencing unparalleled hardship. With our safety net of community partners, we have provided assistance to over 6,000 people. Families, individuals, young mothers with newborns and healthcare responders have received financial support.
As we transition to a long-term recovery plan, we will remain active in helping to lift our region's economy. We will pay especially close attention to those individuals and families that are most vulnerable and at risk.
United Way will continue to fight for the health, education and financial stability for every person in every community.
A SPECIAL NOTE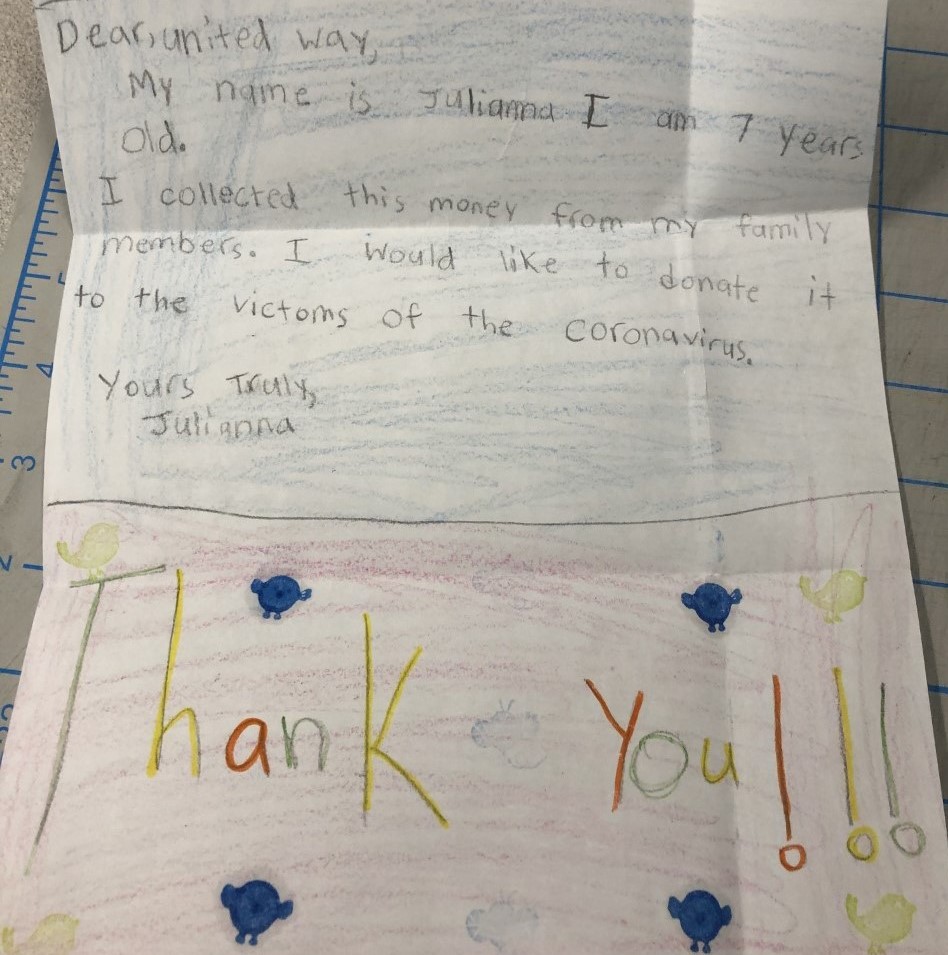 TESTIMONIALS FROM GIFT CARD RECIPIENTS
"Today was difficult for me fighting the hardships of this time. I received my gift card and knowing that there is support is comforting. I just want to give thanks to all who work with United Way. Thank you!"
– Jessica of Bayport
"I just want to thank you so much for the Target card I received today. It was a nice surprise and came at a time that I can really use it. It was greatly appreciated."
– Carin of Oceanside
"I received my card. Thank you so much! I appreciate you beyond words."
– Aisha of East Rockaway
"We just received United Way's gift card and prescription card today. My wife was crying due to the generosity…me too but sssh 🙂 We are so appreciative that in this tumultuous time United Way reached out and helped us ALOT! Hopefully we will have better days ahead and be able to reciprocate."
– Robert & Susan of Patchogue
"Thank you so much for the $100 gift card. I used it to purchase food for my family at BJs a few weeks ago. Again thank you!"
– Elias of Lynbrook
"I received the gift card today and want to say thank you so very much for your help and assistance. I cannot tell you what a big help this is for me. While waiting in limbo for any type of unemployment to kick in (application is still in process status) I am finding it very difficult to provide for my 4 young teens. The gift card will go a long way to help feed them. I wanted to let you know how much I appreciate the help."
– Christine of East Northport
"I received the $100 gift card. To date, your organization is the only relief I've received. Still 8 weeks in, waiting on unemployment. With that, I just wanted to say thank you so much. It really means a lot."
– Thomas of West Babylon
LIIC SUPPORTERS OF UNITED TOGETHER
CNA Insurance
Philadelphia Insurance
Utica National Insurance Group
CHUBB
EPIC Insurance Brokers & Consultants
New Empire Group, Ltd.
"CNA is proud to support and be part of the United Way of Long Island community. Through the efforts of Theresa Regnante and her staff, United Way paves the way to help our fellow Long Islanders during their most difficult times. They provide a "beacon of hope" through their resources and outreach changing lives in a positive way each and every day."
– Gloria Gargano, LIIC Co-Chair, CNA Insurance
GIVE TO UNITED TOGETHER
Contributions help individuals and families. Your support is critical for United Way of Long Island to be successful in providing the necessary resources to Long Islanders. This is our home and we need to meet this challenge head-on.
GIVE TODAY
or give via text: Text "HelpNow" to 313131
INQUIRIES ABOUT THE FUND
Interested philanthropic partners, please contact our President & CEO, Theresa Regnante at tregnante@unitedwayli.org or 631-940-3701 or our Chief Development Officer, Craig Fligstein at craig@unitedwayli.org or 631-940-3752.
RESOURCES
United Way's 211 information helpline is available 24 hours, 7 days a week to provide referrals to available local services should you continue to need assistance. All calls are confidential and service is available in multiple languages. Dial 2-1-1, or outside of Nassau and Suffolk Counties 1-888-774-7633 or visit 211longisland.org.

Visit the New York State website https://coronavirus.health.ny.gov/home for health-related information on COVID 19.